Fósforo
Revista de Inspiración Hispánica
Journal of Hispanic Inspiration
College of the Holy Cross
Worcester, Massachusetts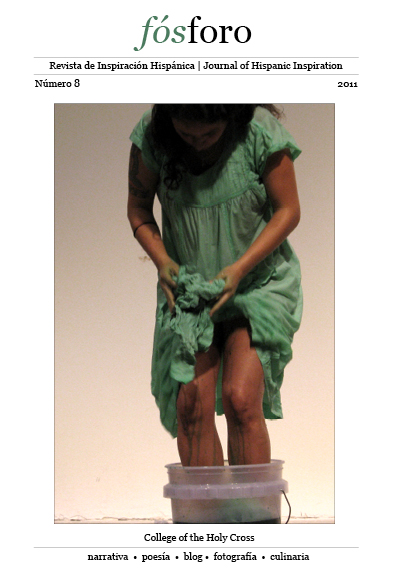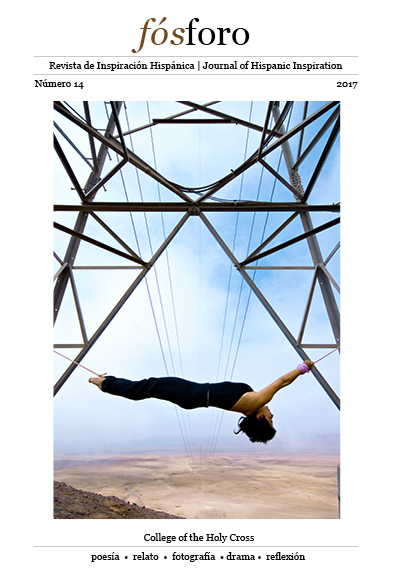 Pincha aquí para Índice de contenidos
fósforo,
la revista literaria y artística bilingüe de Holy Cross, es un foro de creatividad de inspiración hispana en nuestra comunidad. Publicamos poesía, narrativa, drama y ensayo, además de fotografía, pintura, música y otras artes gráficas. Las contribuciones deben reflejar un interés la variedad de las culturas hispánicas y latinx.
Se admiten contribuciones
en inglés o español (o los dos)
de cualquier miembro de la comunidad universitaria: estudiantes, profesores, administración y personal. Aunque las contribuciones del campus tendrán prioridad, admitimos también materiales de calidad de colaboradores y compañeros de Worcester y más allá, entre ellos miembros de la Association of Jesuit Colleges and Universities (AJCU).
fósforo
se publica cada primavera en abril. La fecha de entrega de materiales suele ser la tercera semana de marzo.
Materiales en inglés o español pueden ser enviados como archivo electrónico adjunto a la dirección:
︎pincha aquí.
Para más información, escríbanos un correo:
︎pincha aquí
. También puede contactarse directamente con
Prof. Daniel Frost (Spanish),
ed.
fósforo
cuenta con la colaboración de estudiantes del capítulo Omicron Epsilon de la Sociedad Nacional Honoraria Hispánica Sigma Delta Pi (
sigmadeltapi.org
)